FCS was founded in 1999 by the current CEO and Chairman, E. Bland Cologne. A former Falls Church, Virginia police officer and NCIS special agent, Mr. Cologne approached the security business with the same sense of passion for protecting people and communities as he did when he was a law enforcement officer. From a single contract for the United States Navy then, to nearly 2500 employees deployed in 12 states and Washington D.C. today, FCS's mission as a privately held, American-owned company providing the highest level of security services has never changed. At FCS, we believe three important denominators separate us from the multitude of choices our competition represents:
We recruit, retain, and compensate the best possible candidates to become FCS security professionals. Many of our numbers come from law enforcement, the military and other careers in and out of the security profession. All FCS employees have access to health care benefits, paid holidays and vacation, and a 401K plan. We seek to make FCS a career, not a job. Our refrain is that we are full service, professional security operation – not a staffing agency. We do not dabble in providing concierge, janitorial, or landscaping services.
We believe the single biggest difference between us and the competition, is training. At FCS we go well beyond whatever minimum level of training is required to license a security professional because we think this leads to better outcomes for the company, the employee, and most importantly, the customer. Training is overseen by a Vice President at Corporate who understands both the training environment as well as the security industry.
A passion for professionalism and doing the right thing; No excuses – No exceptions. At FCS, we set the bar high for all of our employees in every level of the security discipline. We maintain an internal Inspection Division that does regular inspections and audits of all of our operations both in the field and at Corporate. We give all of our security professionals the tools and the training to do the best possible job for the customer, and then we hold them accountable to do just that.
FCS has had the privilege of partnering with customers in the residential, commercial, and government sectors around the country for more than 20 years. The company has grown tremendously by adhering to its core values of excellence, courage, integrity, and professionalism. FCS is a licensed security agency in 14 states.
Apply For Employment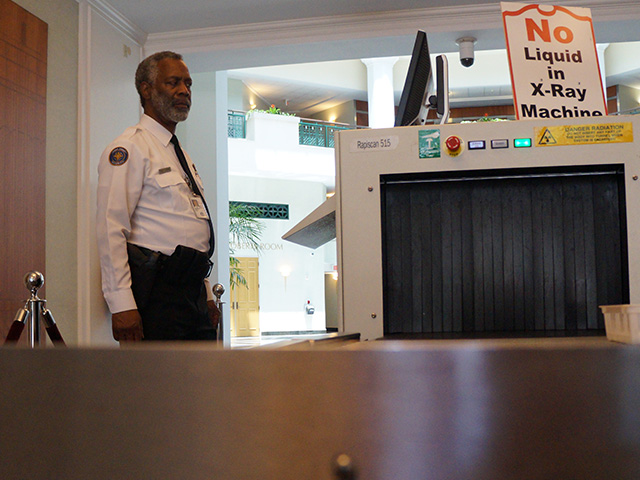 Commitment To You
.
The strength of First Coast Security is derived from its commitment to treating associates and customers with the highest level of respect. Men and women from the armed forces, law enforcement and other high-caliber sectors join the FCS team because they understand that commitment, character and customer service are the foundation for success. Each applicant must undergo thorough screening and training before he or she is permitted to wear the FCS badge.
In addition to providing industry-leading customer service, FCS utilizes advanced technology to fulfill its duties and report to customers. From invoicing and reporting to speed control and tour confirmation, FCS's suite of technological tools and reporting instruments reinforces customer satisfaction and confidence.
FCS has been recognized by numerous organizations. The Employer Support of the Guard and Reserve awarded FCS with the Patriot Award for its support of employees serving in the Guard. The Sheriff's Office recognized FCS for its participation in the Meritorious Awards. FCS is also active in the American Society for Industrial Security, First Coast Crime Stoppers, Building Owners and Manager Association, and First Coast Manufacturers Association. FCS is a member of the City of Jacksonville Disaster Recovery Team and Homeland Security Preparation and Response Team.
The decision to partner with a security services company is not one to be taken lightly. Contact FCS today to discuss your specific needs.