How FCS Creates Security Solutions
We Create Security Solutions To Your Specific Needs
…
We first identify your needs, then we create a custom security solution and select and train security officers to meet your needs. Our management team provides our security officers with a culture that empowers them to make the right decision. FCS has extensive experience in providing physical security, training services, program management, surveillance, executive protection, intelligence, and an array of other specialty services.
Identify & Create a Security Solution Based On Your Needs
Select & Train Security Officers Based On Your Customized Security Solution
Manage Security Officers To Continuously Focus on Improvement
All of our Key Services include Concierge Services. Every client will feel welcome and secure the moment they enter their workplace. FCS's Concierge Program ensures our clients feel prized and protected, not policed.
Armed & Unarmed
Security Officers
We provide armed and unarmed personnel who are properly licensed and trained to provide an array of services – ensuring the consistent safety and security of your staff, clients, facilities, events and properties. Officers, supervisors, and managers are each trained and empowered to make the right decisions. A robust quality assurance program consistently audits performance criterion, and provides you real-time assessment reports.
We take a personalized approach to fully understanding your business security needs, which starts with immersing ourselves in your culture, mission, and values. We then create a security solution that not only meets your needs but also anticipates issues. The result is a customized, proactive security solution that gives you the freedom to create, produce and innovate with your core business.
First Coast also offers clients rapidly-deployed, cloud-based surveillance capabilities – including both equipment that is traditionally wired, and those that require no internet or wired power source. Camera mounting options are limitless – including fully secured mobile trailer units, on the side of a building, on a wall, on a freeway overpass, or even on a tripod movable by hand – anywhere you need security.
Screening & Access
Security
FCS offers a variety of screening and Access Control Services that can be scaled to fit the need of any program. We offer screening and Access Control Services for government buildings, commercial buildings, residential neighborhoods, distribution and logistic centers, constructions sites and more. We also offer technology solutions through our partners to assist in all encompassing security solution.
Risk & Investigatory
Security
FCS offers efficient and cost-effective risk assessments, intelligence & investigation services for clients. Our intelligence and investigatory solutions mitigate key security, operational, integrity, and political risks facing our clients. We also help our clients navigate security risks globally.
Emergency Response
Security
FCS develops site security plans and procedures as well as emergency and intruder action plans, designed for our clients specific locations. We conduct thorough threat assessments and assist you in the design and implementation of security protocols. We specialize in Crisis Management, Emergency Response, Safety, Security and other emergency events.
FCS recruits, screens, trains, and staffs security professionals specifically for their ability to excel on unique client contracts. FCS has deep relationships with US military branches and local law enforcement agencies that help FCS find highly qualified and highly trained applicants.
Training Services
& Certification
The First Coast Training Academy (FCTA) is a full-service training facility with locations in multiple locations throughout the U.S. First Coast Security launched FCTA to provide in-house proprietary training that is customizable to each customer's needs while meeting State and Federal regulations and certifications. Through the use of advanced training technology and innovative delivery of course materials, our officers receive an unparalleled training experience.
Corporate Security
& Liaison Program
Corporate personnel are a prime target for workplace violence. Corporate Security Liaisons are trained and experienced in Undercover/Plain Clothes Armed Protection and are ideal for the protection of personnel within corporate facilities. Corporate Security Liaisons will give the client appropriate space and peace of mind while remaining in close proximity to mitigate threats of bodily harm. Corporate Security Liaisons are preferred to have prior military and/or law enforcement experience as well as previous armed protective services experience. The Corporate Security Liaison will be used for various tasks such as SAB response, termination reviews, layoffs, senior executive staff protection, VIP transportation, advanced medical aid, and the safety and security of all site personnel and property.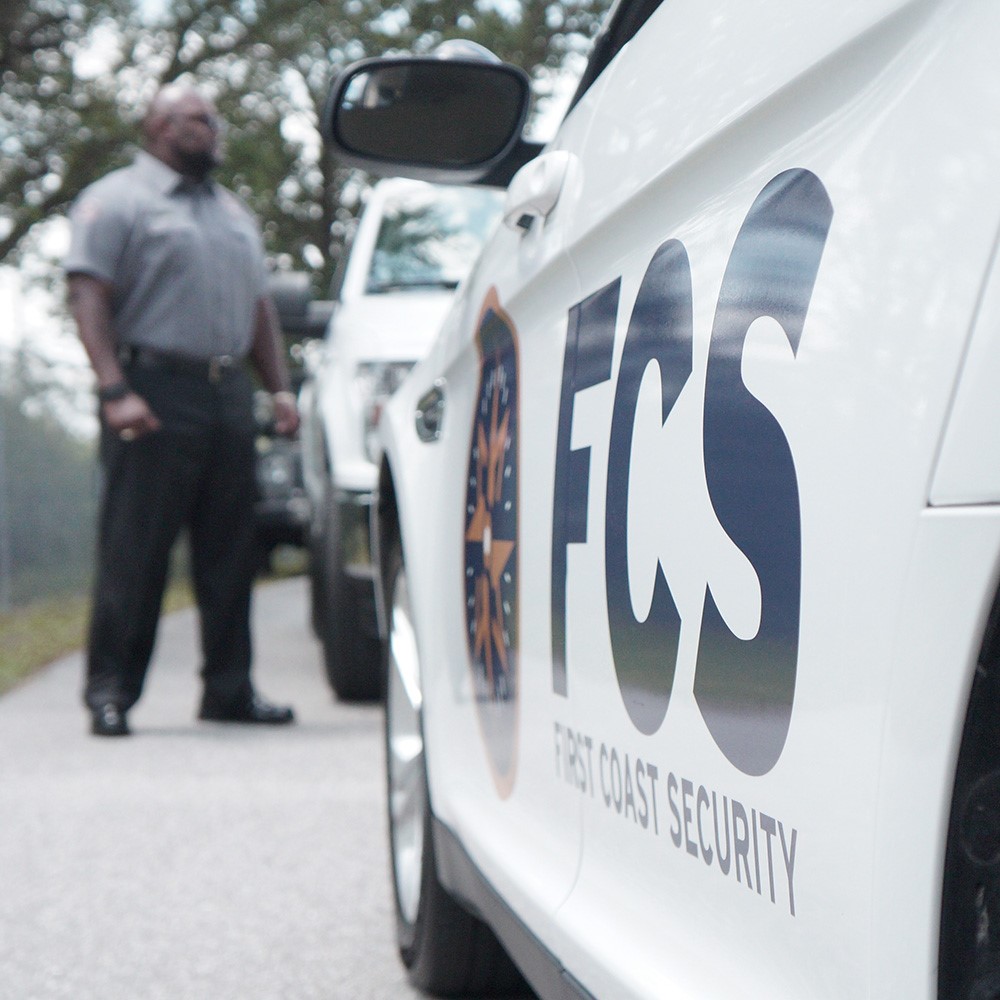 Service Areas &
Office Locations
FCS Security Services, Inc. is comprised of approximately 3,000+ security professionals, headquartered in Jacksonville, Florida and deployed in 23 states and the District of Columbia. Servicing approximately 80 different clients with 4 million hours of services.
Click to see state level security information.